Mike Walsh



Joined: 28 Jun 2014
Posts: 6397
Location: King's Lynn, UK.

Posted: Sun 29 Jul 2018, 09:23

Post subject: SOLO Java MP3 player
Subject description: Java-based cross-platform MP3 player (only supports .mp3 & .wav)
---
Afternoon, all.

I came across this last night. If you happen to have the Java Runtime Environment installed on your system (for

whatever

reason..!), and fancy a really quirky, simple MP3 player (and why not?
).....then take a look at this:-

The

Solo Java MP3 player

.



(I can't link you to a website as such; it's only a project page on SourceForge), but if you want to look at it, here ya go:-



https://sourceforge.net/projects/sjmp3/ )

--------------------------------------

It really is pretty simple; it only supports .mp3 and .wav files. (

Not

.wma, or .wmv;

only

.wav.) So it's a wee bit limited in scope.....but if you have shed-loads of .mp3 or .wav files, you'll be OK.

It does include some rather nifty editing tools, and a whole lot of different themes. So it's not such a waste of time; personally, I just think this is a rather fun item to mess around with, and hey! it's

different

, right?

You can also use it for streaming radio station URLs, too; it's just a case of getting the URL correct. Which has always been a bit of a PITA, no matter

what

app you use for this!!

Very simple interface:-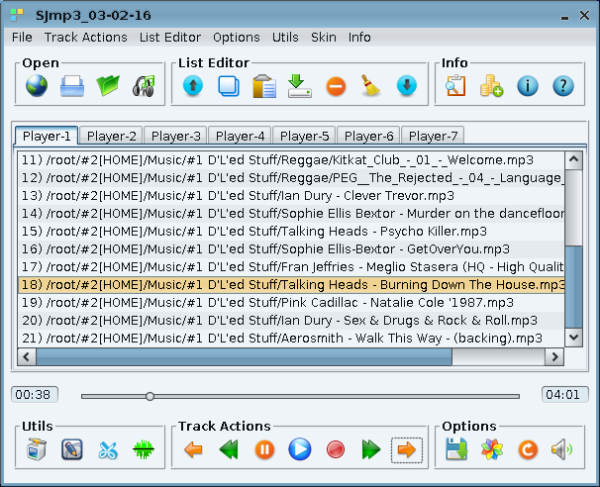 Anybody fancies messing around with it, you can find it here. If you don't have the current, up-to-date version of Java, you can find an SFS for that here.

------------------------------------------------------------------------------------

You'll also want rerwin's .pet for the Java control panel.

http://www.murga-linux.com/puppy/viewtopic.php?mode=attach&id=93157

Load the SFS, install the control panel .pet, then open Menu->Utility->Java Control Panel. It'll ask you to reboot before you can use it. After re-booting, open Menu->Multimedia->Solo Java MP3 player....and enjoy.
(Oh, BTW; before I forget. Before playing anything on it at all, open the volume control (bottom right corner), and

TURN IT DOWN

! It fires up with the volume set to 100%, so it'll blast your ears out if your audio's working correctly.....and it cross-links to, and controls Retrovol.



Don't

say I didn't warn ya..!
)


Mike.

_________________
MY 'PUPPY' PACKAGES