sc0ttman


Joined: 16 Sep 2009
Posts: 2806
Location: UK

Posted: Mon 28 Jan 2019, 15:10

Post subject: txt2regex
Subject description: a bash script to help you build regex commands
---
# txt2regex.sh - Regular Expressions "wizard", all in bash2 builtins
#
# Website : http://aurelio.net/projects/txt2regex/
# Author : Aurelio Jargas (verde@aurelio.net)
# License : GPL
# Requires: bash >= 2.04

Download here: txt2regex.sh

About:


Quote:
Txt2regex is a Regular Expression Wizard that converts human sentences to regexes. In a simple interactive console interface, the user answer questions and the program build the regexes for more than 20 programs, like Vim, Emacs, Perl, PHP, Python, Procmail and OpenOffice.org. It is a Shell Script 100% written with Bash builtin commands. No compilation or extra commands are needed, just download and run.


Screenshot: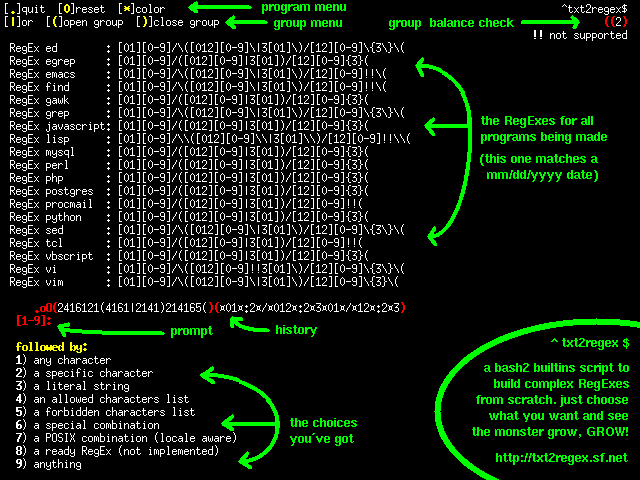 _________________
Pkg, mdsh, Woofy, Akita, VLC-GTK, Search