fredx181


Joined: 11 Dec 2013
Posts: 3379
Location: holland

Posted: Sun 02 Sep 2018, 04:02

Post subject: Xlunch Graphical app launcher .pet packages
Subject description: For testing
---
Moved from Here because of difference with sc0ttman's project:



EDIT 2018-09-03

: Updated download links to v3.2.12-6, see info:
http://murga-linux.com/puppy/viewtopic.php?p=1003661#1003661

Hi, here are Pet packages for xlunch (including some custom scripts and example .desktop launchers)
See about xlunch: Xlunch on Github and Xlunch website
As is xlunch "A work in progress" these pet packages are also.
Anyone feel free to modify, see this just as a concept.
Thanks

sc0ttman

for the genentries mod, it's included in the pets (in /usr/bin).
(other scripts are in /usr/local/bin)

Initial launch of xlunch (example Xlunch3 from Menu > System) may show something like: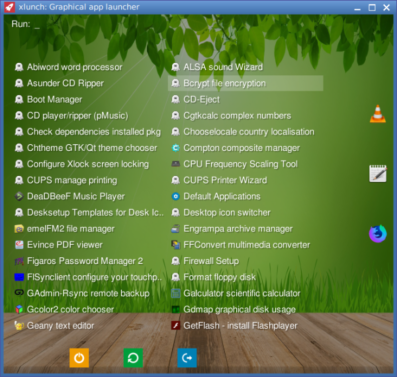 Well... disappointing, many icons won't show... (instead 'ghost' icon) But wait...
there's a fix:
Run "

Regenerate entries for xlunch (convert .svg to .png)

" from Menu > System to convert .svg to .png
(requires "librsvg2-bin" installed)
Takes some time, but after that the icons should show , example Xlunch3 showing icons: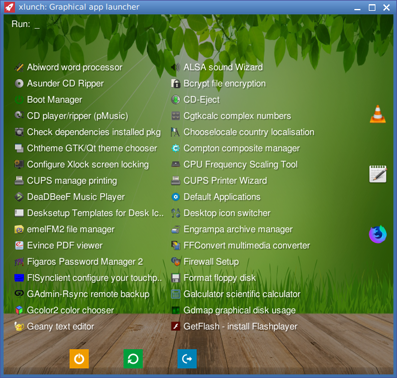 From Xlunch Help (Menu > System > Xlunch Help):

Quote:
Probably some (or more) icons won't show in the Xlunch window.
This is because Xlunch doesn't support .svg icons.
This can be fixed by converting .svg to .png. The tools 'rsvg-convert' or 'convert' are needed for that.
If not installed, install from Puppy Package Manager: librsvg2-bin or/and imagemagick.

After that, run from Menu > System > 'Regenerate entries for xlunch (convert .svg to .png)'
That may take some time, depending on the amount of entries.
Then start one of the examples in Menu > System > Xlunch1, Xlunch2 or Xlunch3 and the icons should show.
Note that these are just examples, Xlunch is very customisable, type in terminal to see the options:

xlunch --help

To quickly update the entries list in /etc/xlunch/entries.dsv, run:
Menu > System > Quick generate entries for xlunch
(use it in case you installed a new program, to make it show in Xlunch)


Demo Gif Image (Xlunch3) (has options

--dontquit

(xlunch still shows after running application) and

--windowed

):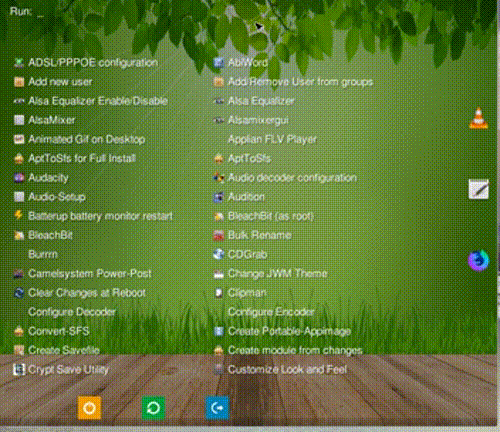 (scrolling through applications, search for 'edit' 'peasy' and run custom 'vlc' button)

EDIT 2018-09-03: Updated to v3.2.12-6
32-bit pet:
https://dl.dropboxusercontent.com/s/9onjzwtihqznkpw/xlunch_3.2.12-6_i386.pet?dl=1
64-bit-pet:
https://dl.dropboxusercontent.com/s/9je8r6ogb2u51yu/xlunch_3.2.12-6_amd64.pet?dl=1

It has special construction, the xlunch binary is not in PATH (it's /usr/local/xlunch/xlunch)
There's script: /usr/local/bin/xlunch that calls xlunch.
This is to workaround the problem of possibly not finding the default entries file: /etc/xlunch/entries.dsv
See also issue here:
https://github.com/Tomas-M/xlunch/issues/91#issue-348889265

P.S. I also modified 'gentriesquick' (run from Menu > System > Quick generate entries for xlunch), it has "plan B" in case an icon is not found, then it uses genentries with the -f option (to generate entry from single .desktop file).
Still it's fast, but a little slower than the original gentriesquick from Tomas M.
I didn't add 'xlunchr' to the package, it seems to me that using 'categories' (left vertical buttons) is not ready yet.
(but correct me if I'm wrong)

EDIT: Forgot to mention that the pet has pinstall.sh. During install it will create /etc/xlunch/entries.dsv based on content of /usr/share/applications

Fred

_________________
Dog Linux website


Last edited by fredx181 on Mon 03 Sep 2018, 14:33; edited 1 time in total