don570


Joined: 10 Mar 2010
Posts: 2866
Location: Ontario

Posted: Sat 21 Sep 2013, 16:29

Post subject: makepet-1.1 - rightclick utility
---
Originally written by forum member stu90.
I have put this right click in my right click utility package

http://www.murga-linux.com/puppy/viewtopic.php?p=726890#726890


Purpose: Simple right click on folder to make a pet package from a
folder, however two important points...

1) file structure is important in folder
2) There must be a desktop file inside --> /usr/share/applications/

Otherwise a faulty desktop file is created. I have put in
warning message if there is no desktop file detected.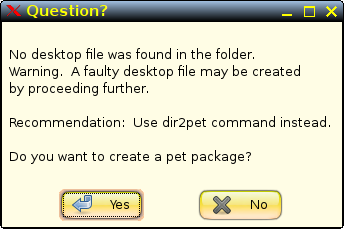 ______________________________________
Description

right click utility



Download

Filename

makepet-1.1.pet

Filesize

1.42 KB

Downloaded

97 Time(s)
darry1966

Joined: 26 Feb 2012
Posts: 217
Location: New Zealand

Posted: Tue 08 Oct 2013, 04:12

Post subject:
---
Yes very nice I use on 3.01 many thanks for this - you do great work sir.