Another method using unetbootin
http://murga-linux.com/puppy/viewtopic.php?t=87064&search_id=1494561177


My experience with installing Android
http://mail.murga-projects.com/puppy/viewtopic.php?t=86514&sid=787ca351e283a3c686cc5b09864ac338

You may want to use a Plop CD to boot up your computer. Here are
3 reasons to use this technique..

1) damaged hard drive (static electricity or a lightning strike can
damage the controller chip making your hard drive useless)

2) You may not want any modification of a windows installation.
This means that Grub (or the more powerful Grub4dos) can't be used.

3) Perhaps your USB port doesn't support booting but you still want
to use it to boot.




How to burns a Plop CD: Instructions




Download the current boot manager plpbt-5.0.14.zip. Extract it to get the iso file.
You will find the iso file in the install directory. The name of the file is plpbtin.iso


Windows:

You can use a full version Nero, or the free program CDBurnerXP, or
any other program that can burn ISO images as bootable. Some trial
versions will burn the ISO but it won't be bootable.

Use the option like burn ISO on CD or burn ISO Image. Then choose the boot manager ISO and burn it.

Linux: Several programs are popular like pburn.

Note: you should burn to a CD rather than a DVD because many older computers don't recognize DVDs.
______________________________________________


Boot up your computer with the CD of Plop Linux. Tapping on a
function key may be necessary to show a list of bootable devices.
Choose CD as the device to boot from.

You will get a first screen like this. Choose 'Plop Boot Manager'.


Don't choose

'Plop Linux' since that will take you to a console!!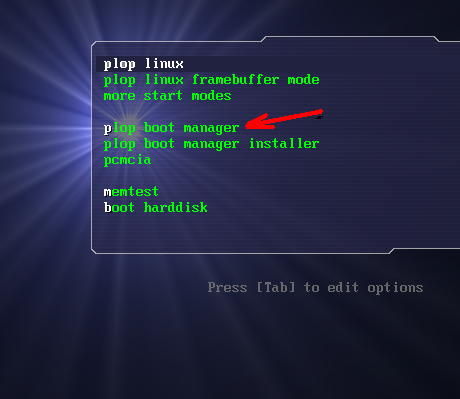 You will now see the boot manager screen(see image)
Choose 'USB'.




__________________________________________________________



Install Puppy linux on USB device



First step is to download a puppy linux ISO such as Precise Puppy.
You can now prepare a USB device such as a thumb drive on
a friend's computer if you're afraid of modifying your windows computer.
You MUST find a computer that is currently running Puppy linux.

According to documents which come with Boot flash written by Barry
Kauler, it is difficult to boot a PC with an ISO of Puppy. He says
that he was only able to get 2 out of 4 of his computers to boot.

So he recommends that Boot flash be used to prepare the
USB device ----> it does a reformatting to 2 fat partitions.
One partition holds the puppy and the other is empty for future use
(like exchanging documents with a Windows install).

The Boot flash application installs the required files
from an puppy ISO.

I used Precise Puppy or Wheezy Puppy to set up my USB device.
(in my example it was a USB SD card reader)

Start Menu > Setup > BootFlash install Puppy to USB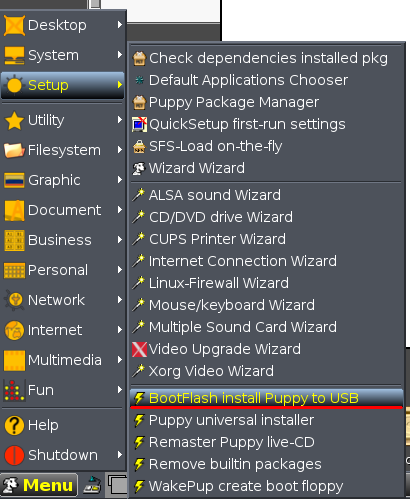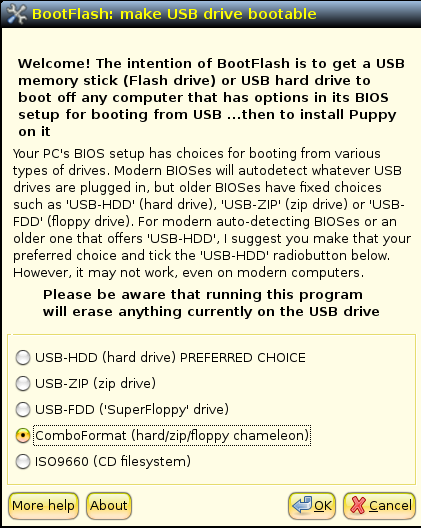 Now that the USB device is prepared you can use the Plop CD on a
Windows computer even if USB drive port is non-bootable.
I will now have a choice of where to find an operating system.

In theory a computer without a hard drive can be used.
Some people have reported this in the Murga forum.

Once you have an operating system booted you can then remove
the PLOP CD and the USB device so that your CD player is free for music
or stick another USB thumb drive in the port.




___________________________________________